[STRAUS Specifications] [STRAUS Applications] [Technical Papers and Tips] [STRAUS Model Archive] [STRAUS Home Page]



---

Contributions of models you have created are welcome to this page.
Please send graphics files or STRAUS X file formats with a short description to hsh@iperv.it

---
Analysis of 32 Storey Building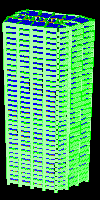 A consulting firm in Bangkok is currently working on the analysis and design of a 32 storey building. The building is quite slender and irregular in its proportions and could be susceptible to wind induced vibrations. The consulting firm engaged ACECOMS to carry out a Dynamic Modal Analysis to determine the natural frequencies of vibration and the corresponding Mode Shapes. The building was modelled in three dimensions using appropriate beam and plate elements and the analysis was carried out on STRAUS. The results of this analysis are being used for wind load characterization and analysis by Dr. Pennung Warnitchai, Associate Professor, School of Civil Engineering, Asian Institute of Technology.

< Click to view in detail.
---
Analysis of a Catamaran

Specifications:

| | |
| --- | --- |
| Length: | 82.3 metres |
| Passengers: | 600 |
| Vehicles: | 175 cars |
| Performance: | 40 knots |






Austal Ships is located in Western Australia and is a major constructor of large catamarans.
This model is of the Felix Vessel.





Click to view in detail.



Photogragh (non clickable)
STRAUS Plate Model
Internal Frame Structure
Internal Frame Structure
Close Up
---
For more information please contact us by e-mail: hsh@iperv.it

---